Recent Posts
71
« Last post by Pep on 21, February, 2016 - 09:49:41 »
Excellent !
That's magic !
72
« Last post by Robosoft on 20, February, 2016 - 20:55:23 »
I was sat in a restaurant having a meal with Paul Daniels we got chatting about the C5.
During the day of filming for Tomorrows World, Paul Daniels was due to do some filming at the BBC. He turned up as usual in his car only to be told that he could not park his car in the car park by a snotty security guard. So he turned his car round and parked in a street near by. 20mins later his phone rang, "Where are you?" the BBC asked. He told them that he wasn't allowed in to park his car by security. "Come back and we will send the guard on a break and let you in". Paul drove back and parked.
On walking through the car park he saw something odd whizzing about. "Whats that?" he asked. "Oh thats the new car Clive Sinclair is launching, they are testing it for the show Tomorrows world" replied the producer. Paul walked over to the C5 and asked "Where can I get one?" he was told by the man from Sinclair, they are coming out soon and he could get one for £400. "I wan't one now" said Paul. "you can't" came the reply.
"Listen, Tomorrow I will drive this through London and advertise it for you if I can buy one now!" a few phone calls were made the deal done and a cheque was handed over.
The following day Paul took delivery of the C5 and took it back to the to London, Got in and drove it past the very same security man at the BBC. He drove The C5 straight under the barrier and round the car park with security man in hot pursuit. This was the only reason he wanted to buy the C5.
Later that day he drove it around London as promised.
Paul thinks one of his son's has the C5 now.
73
Hi here is the original off-roader from 1985 there where only 2 ever made so I decided to have a go at making one I had the help from Brian from the USA as he had just bought one of the original ones he helped me by posting photo and info ...of it as you can see he has quiet a lot of work to get it looking and running again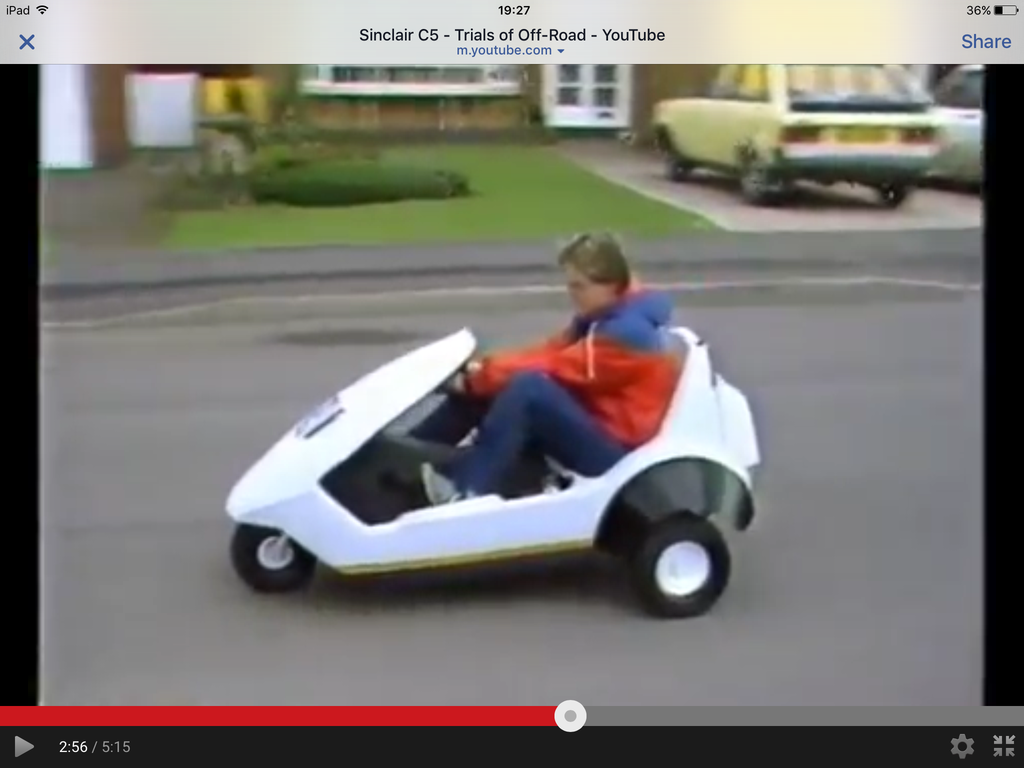 And how it is today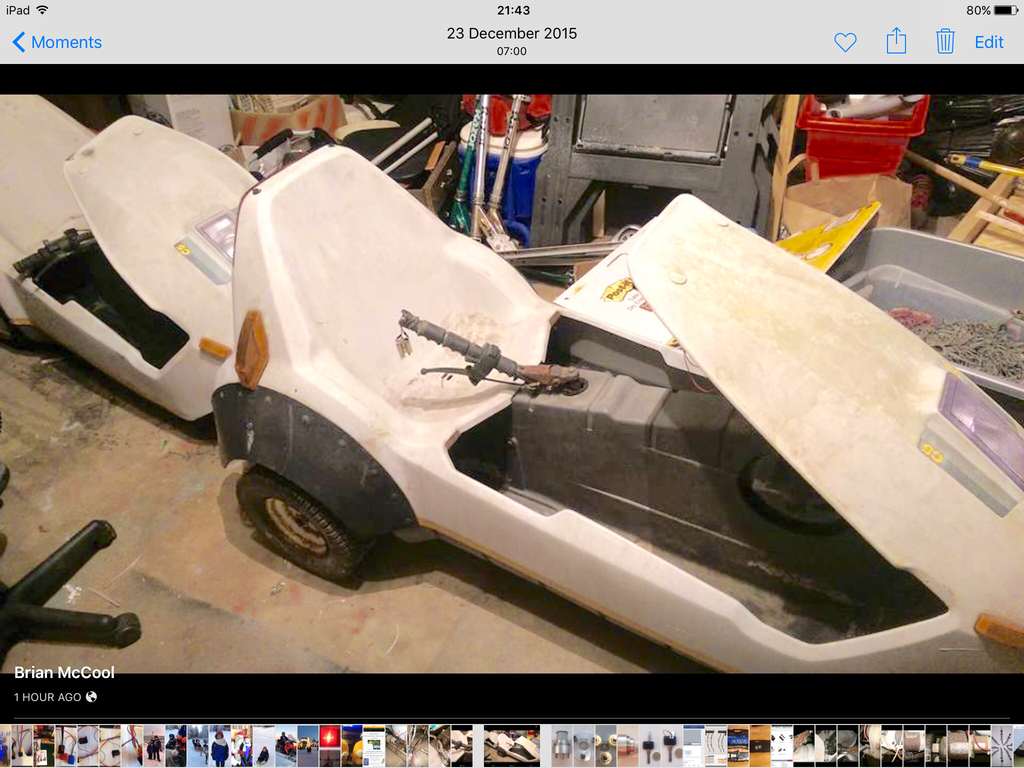 And here is my copy of it
75
« Last post by Thor069 on 22, January, 2016 - 09:35:24 »
Hello Chas,

Thank you for the information and photo.

my mail is t.hochstadt(AT)gmx.de

Where get you the gear cog for the transmission and how do you soldering it?
The metal profile that you us you made yourself and its witch metal (seems to be 3mm thick or?)
Why did you mount the hub from down in the holder, from Up the hub can't fall down and I think the holder work better or?

Best regards.
Thorsten

77
Hi there it did have a back break but I took it off as it would not work as it was a back brake .
Regarding the fixing the hub to the frame I used a flat piece of metal as wide as the inside frame drilled and bolted it to the fram so it would not move two slots cut out to fit the hub axle c
I got the 8 speed hub off a bent wheel.
The drive cog was welded to the hub .
I will try and send some photos to you ..
Can you send me your email address
Bye Chas
78
« Last post by Thor069 on 20, January, 2016 - 10:23:20 »

Herę is the gearing i wanted



Hello.
I have the seam idea and so a few questions:
1) The Shmiano Nexus is with Model and it has a "back break"?
2) have you a photo of the hub-holder and how do you have fit it to the frame?
3) How many cogs have the 2Gear to transfer to the main axe, the gear on the main ae is the original or?
3b) where have you got this Gear and how do you fixed to the hub?
4) How many cogs have the gear from the Hub, I can get them from 16 to 23dents.
So far my first doubts :-).
Best regards.
Thorsten
79
« Last post by Ray on 01, January, 2016 - 14:35:43 »
Guys
To save having to buy from several locations I can supply 3D printed mounting bracket, new rocker switch and new flasher unit c/w warning buzzer.
£12- plus £3- P&P if you are interested.
Regards
80
« Last post by Ray on 01, January, 2016 - 14:33:17 »
Guys
I will make pairs of mirrors as required.
A NEW pair of replica Sinclair C5 mirrors complete with fixing brackets, nuts & bolts.
3D printed bodies and brackets, body spray painted to be close to C5 colour.
If not satisfied return within 5 days for refund of cost of mirrors.

If you want a specific colour for your project message me.

£60- a pair plus £5- P&P.